08.11.17
by
1. Favorite Book and book currently reading?
Crush by Richard Siken (He hits hard & knows how to do it. Read it if you're queer or depressed). I'm currently reading two books -- The Vegetarian and re-reading my favorite dyke play, Clit Notes.
2. Drink of choice/ bar fix?
A Dirty Shirley or a 4 Loko
3. Shit I do when I'm not at Kramers:
When I'm not at Kramers, you can find me hangin' at the pool, listening to Smashmouth, watching Baggage (classic Jerry Springer trash TV), eating cheese, making fun of men, strutting my stuff, or playing charades.
4.What's your current music playlist?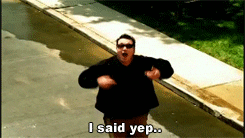 All Star by Smashmouth
Mambo Number 5 by Lou Bega
The Reason by Hoobastank
I'm Like a Bird by Nelly Furtado
One Week by Barenaked Ladies
5. What's your adult film star name (Middle name and street you grew up on)?
Corey Culpeper
Posted in: