08.14.17
by
If you purchase one of the following titles, you will recieve a free kids meal in the restaurant.*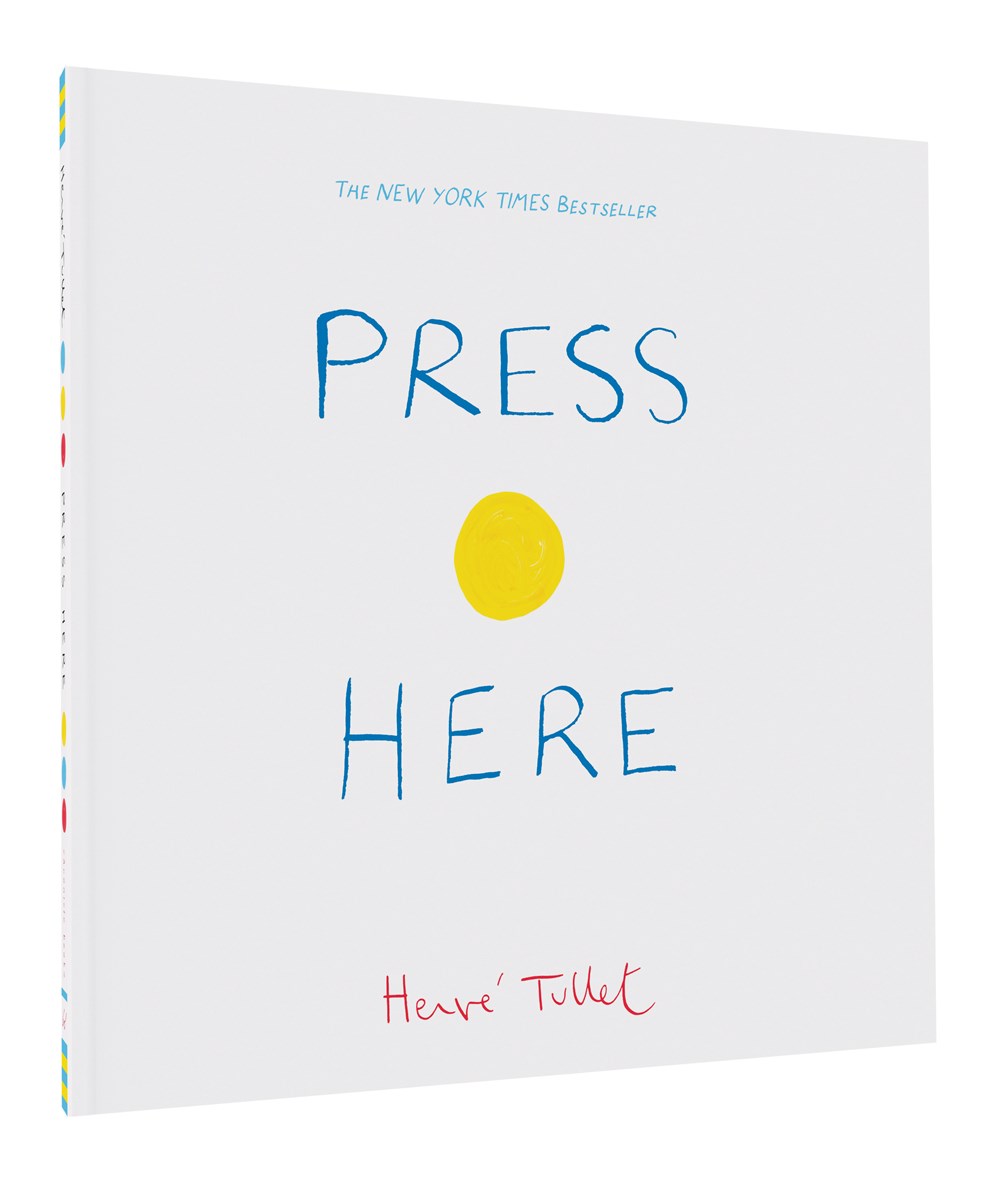 Press Here by Herve Tullet: Each page of this surprising book instructs the reader to press the dots, shake the pages, tilt the book, and who knows what will happen next! Children and adults alike will giggle with delight as the dots multiply, change direction, and grow in size! Especially remarkable because the adventure occurs on the flat surface of the simple, printed page, this unique picture book about the power of imagination and interactivity will provide read-aloud fun for all ages!
I Really Like Slop by Mo Willems: With Mo's spot-on humor, Gerald and Piggie show readers that sometimes, despite how strange it may seem, trying something new isn't all that bad. Or maybe it is.
Dragons Love Tacos by Adam Rubin, Illustrated by Daniel Salmieri: Dragons love tacos. They love chicken tacos, beef tacos, great big tacos, and teeny tiny tacos. So if you want to lure a bunch of dragons to your party, you should definitely serve tacos. Buckets and buckets of tacos. Unfortunately, where there are tacos, there is also salsa. And if a dragon accidentally eats spicy salsa…oh, boy. You're in red-hot trouble.
The Incredible Book Eating Boy by Oliver Jeffers: Like many children, Henry loves books. But Henry doesn't like to read books, he likes to eat them. Big books, picture books, reference books . . . if it has pages, Henry chews them up and swallows (but red ones are his favorite). And the more he eats, the smarter he gets—he's on his way to being the smartest boy in the world! But one day he feels sick to his stomach. And the information is so jumbled up inside, he can't digest it! Can Henry find a way to enjoy books without using his teeth?
Maps by Aleksandra Mizielinska: This book of maps is a visual feast for readers of all ages, with lavishly drawn illustrations from the incomparable Mizielinskis. It features not only borders, cities, rivers, and peaks, but also places of historical and cultural interest, eminent personalities, iconic animals and plants, cultural events, and many more fascinating facts associated with every region of our planet.
The Dangerous Book for Boys by Hal Iggulden: Perfect for every boy from eight to eighty, covering essential boyhood skills such as building tree houses, learning how to fish, finding true north, and even answering the age old question of what the big deal with girls is. In this digital age there must still be a place for knots, skimming stones, and stories of incredible courage. The Dangerous Book for Boys will help recapture Sunday afternoons, stimulate curiosity, and provide great father-son activities. The brothers Conn and Hal have put together a wonderful collection of all things that make being young or young at heart fun—building go-carts and electromagnets, identifying insects and spiders, and flying the world's best paper airplanes. It's the perfect book for every boy—or every man who's still a boy at heart.
Women in Sports by Rachel Ignotofsky: A charmingly illustrated and inspiring book that highlights the achievements and stories of fifty notable women athletes – from well-known figures like tennis player Billie Jean King and gymnast Simone Biles, to lesser-known athletes like skateboarding pioneer Patti McGee and Toni Stone, the first woman to play baseball in a men's professional league. Covering more than forty sports, this fascinating collection also contains infographics about notable women's teams throughout history, pay and media statistics for female athletes, and muscle anatomy. Women in Sports celebrates the success of the tough, bold, and fearless women who paved the way for the next generation of athletes.
*One meal per child/book purchase. Promotion starts Monday, August 14th and will run until Sunday, October 1st. The bookstore receipt does not have to be redeemed in the restuarant the same day of purchase.*Bookstore receipts are still redeemable in cafe 2 weeks after expiration date (Sunday, October 15th).
Posted in: